We live in a world of infinite possibility. What if you could lead the life of your wildest dreams? What if it was easy? What if it was your choice? What if you could begin to live that life right now?
Spencer Dirats is a teacher, speaker, and coach dedicated to walking with you on the path towards creating the world we previously could only have imagined.
BLOG
Find classes, conversations, stories, guided meditations, poetry, and reflections. Use these resources to invite inquiry, vulnerability, and light into your own life.
Dive in
Are you ready to rapturously engage with your life?
What if you could, right now?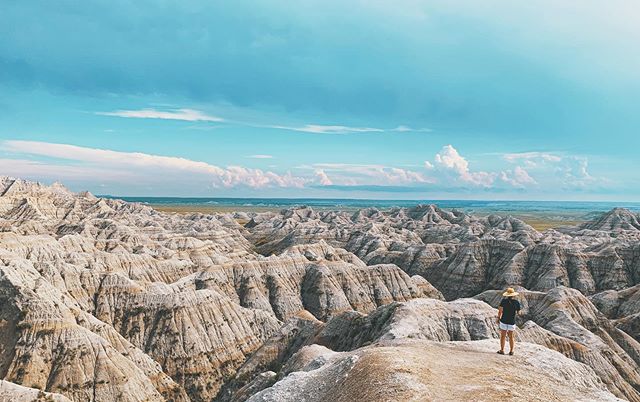 Little homie, big landscape, even bigger love 💛 nice job making it all the way around the sun again!! And thanks for spending some of that year wilin' your way across the country with me and copping sunburns and seltzers like champs with the fam :) sorry about the storm that we saw coming in this moment, and all of the ~storms~ we endured along the way (this summer and all the ones since we were 12 years old)...hope you'll forgive me and accept my wishes for the happiest birthday, kiddo!! I love you!!! . #roadtrip #twogirlsonecar #badlands #nationalparkgeek #birthdaygirl #myhomie
A stormy and gray Sunday has me feeling FULLY prepared for fall in Utah. I may have to wait a little while yet, though... I'll be missing Isabel (@cranbramble) on this year's shoulder-season outings, but at least I've got the cool spots she's shown me along the way! #utahisrad #shehikes #mountainlife #hotsprings #colderweather #andtheywereROOMMATES #protectpubliclands #optoutside #exploremore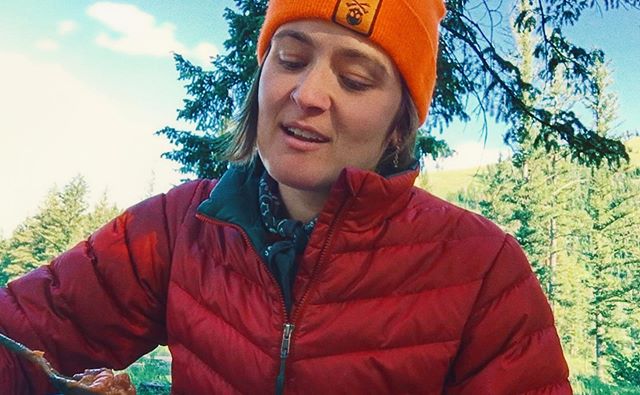 Whenever I'm alone - and I mean really alone, way out there with no cell service and no friends and no one to hear me - I inevitably always have a moment of "holy shit, I have changed so much." It's a big part of why I like soloing so much. It gives me space to see the wild powerful transformations I have undergone, and am always undergoing. I step into the fire over and over for the sake of learning what emerges from the ashes - a truer version of mySelf. I tune in over and over to the Truth that lives within me and within everything I see touch feel - that the basic nature of life is change. Not only do I accept this, but I wholly revel in it. I'm here for it. While this camp stove chili moment may not look like much, it was a powerful day from my summer solo, when I had some pretty big truths about mySelf come to light. For me, that's the most rad. #transformation #kali #rosegoldgoddesschallenge #nationalforest #solotravel #campvibes #mountainlife #outdoorwomen #nationalforest
Durga is the warrior goddess, And her fire flows through my veins as sure as my own blood. She is the protective mother goddess, Unleashing anger against wrong, Destroying to empower creation, The violent liberator. She fights for the soul's journey to creative freedom. I feel her in every howl at the moon and every shriek into the shadows. Over and over I have ridden her tiger into battle against the demons. I feel Durga's ferocity alive within me whenever I lead the charge. I feel her when I snarl at every obstacle in my path. I feel her shake my shoulders if I even think about shying away from a challenge. I feel that my Calling and her purpose are one in the same. Sometimes this energy is so loud that I wonder if maybe I would be well served to spend more time in the inquiry of a gentler approach to my life, But mostly, I couldn't be happier to carry her at the forefront as I charge through this life. #durga #goddessenergy #rosegoldgoddesschallenge #shehikes #girlboss #mountainlife #shesrad #outdoorwomen #utahisrad #visitutah
I feel the most creative when I am in a quiet place with something in my hands that allows me to express some aspect of myself that I have never heard. Sometimes, it's this little guitar in a wide open patch of desert. Sometimes, it's a pen and an old journal tucked into the roots of a withered tree. Sometimes, it's my computer in the soft morning light on a Sunday in my bedroom. I don't need to create something groundbreaking or worthy of publishing. I create for ME, to deepen my knowing of mySelf. This picture is from a trip I took to experience firsthand the power and beauty of Bears Ears. This land is not my land. Please follow @protectbearsears for more information. #creative #desertlife #saraswati #rosegoldgoddesschallenge #quietplace #utahisrad #visitutah #protectpubliclands #protectbearsears #indigenousland
I feel connected to abundance when I reflect on the coming and going of all things, When I am present with the arising and passing away of everything that ever has been and everything that ever will be. I went into the woods yesterday to talk to the oldest living thing on earth - an 80,000 year old aspen tree. I went to ask it what it is to live for so long. At its feet, I found these bones. Ah, of course. I let things go to make space for things that are in deeper alignment with my purpose. I honor death, the passing of the old, as I step towards bringing new things to life. Abundance comes to me in this way. #lakshmi #rosegoldgoddesschallenge #bones #nationalforest #outdoorwomen #protectpubliclands #abundance #lifeindeath
I feel like my highest self when I'm solo on the road. I feel like a badass. I feel independent and free. I feel confident. I feel unstoppable. I feel tuned-in. Even when it's something as simple as a one-night outing to break up the normal routine, getting out there and finding rad new spots is my favorite way to bring out the best in myself. What's yours? #roadtrip #solotravel #wildthing #rosegoldgoddesschallenge #parvati #optoutside #exploremore
Today's piece of advice from yesterday's episode of Spencer Outdoors™: Given the option between hiking down to a trail or traversing the scree field, consider the additional effort required to navigate many large loose stones prior to making your decision. I chose the scree field. In the moment - regretted it. Now? Would willingly do it again. #theroadlesstraveled #bigcottonwoodcanyon #millicent #offseason #shehikes #solohike #wasatch #nationalforest #publiclandowner
This is one of three pictures I have of myself from the entirety of my Big Solo™ this summer, and one of about 80 photos I took over more than 6000 miles worth of exploring. I started to post this with a lengthy reflection on our attachment to things we can see and touch, but I'll hold off for now and leave you with just this: Awareness permeates every fiber of our beings, if only we can get quiet enough to hear it - and wise enough to listen. #outdoorwomen #giantsequoia #bigtree #solotravel #exploremore #awareness #livingyoga #feel #listen #wisdom #optoutside
Accidentally reduced myself to tears this afternoon reflecting on how important public lands are to my entire existence at this juncture. Time spent in national parks and forests has made me the woman I am today, and I'm proud of that. For me, wild spaces changed everything - one footprint at a time. Teaching about the importance and conservation of public lands has, over the last year especially, rocketed to the forefront of my mind. I'm not a perfect steward of the land, but I'm deeper in the conversation than I ever have been - and I'm stepping deeper all the time. For today, I'd just like to wish a very happy birthday to the @nationalparkservice. Thanks for being you :) #protectpubliclands #nationalpark #findyourpark #conservationmatters #nationalparkgeek #optoutside #northdakota #badlands #theodoreroosevelt #myTRNP
This summer had a lot of big days. ↠ A lot of full sends, Big mountains and big distance, Deep water and deep feeling, Bright shooting stars and bright lightning, Crashing waves and crashing thunder, Fiery sunsets and fiery tongue. I felt a lot of power this summer. I felt a lot of softness, too. Softness in the foggy sunrises, In my sleeping bag, In loving arms and eyes, In my guitar, In watercolor paints, In quiet whispers of the redwoods, In bare feet on the sand and dirt and stone, In cool rivers and cool nights. ↠ The kids come back to school on Monday, and this year, I'm bringing this balance. I'm bringing the yin and yang. We're going to work out and work in. I'm bringing my crackling electric power And I'm bringing my softness, my lovingkindness, Because they need it, And so do I. Because they are fierce and strong, Sweet and gentle, And so am I, And so are we all. And nothing reminds me of that better than time spent outside. ↠ My favorite mantra is from "The Radiance Sutras" by @lorinroche: Nature is wild and serene And so am I. ↠ And so am I. ↠ #outdoorwomen #wyld #shejumps #balance #yinandyang #pacificcoast #protectpubliclands #solotravel #hwy1 #radiancesutras
"If you're going to try, go all the way. Otherwise, don't even start. If you're going to try, go all the way. This could mean losing girlfriends, wives, relatives, jobs, and maybe your mind...it could mean not eating for 3 or 4 days. It could mean freezing on a park bench. It could mean...mockery, isolation...a test of your endurance, of how much you really want to do it. And you'll do it despite rejection and the worst odds and it will be better than anything else you can imagine. If you're going to try, go all the way. There is no other feeling like that." // Charles Bukowski // . I'm going to try, And I'm going all the way. . I spent this summer hatching THE scheme. It's a massive undertaking, And it'll likely be a long time before you see it. But it's happening. I'm going all the way. . #dreamandscheme #goalltheway #mountainlife #protectpubliclands #conservationmatters #buildit #bukowski #stopatnothing #alpinemeadows #wildflowers #ridgeline
9500 miles, Two months, 19 states, Countless conversations, Endless time to think, And I can't think of a single dang thing to say to sum it up. I don't usually like being tongue tied, But I don't think I mind being stunned silent this time. . #roadtrip #publiclands #conservationmatters #solotravel #outdoorwomen #radgirlslife
Spent my week by the beach reading a 900 page book about Theodore Roosevelt and his life's work because, as it turns out, I am just *that* much of a geek about our public lands systems. . Did you know: "After becoming president in 1901, Roosevelt used his authority to establish 150 national forests, 51 federal bird reserves, four national game preserves, five national parks and 18 national monuments on over 230 million acres of public land." (U.S. Department of the Interior) Theodore Roosevelt established the National Forest Service. He made national parks a thing. If it wasn't for his work, almost *nothing* I've done on this trip would've been possible!!! Did you know that he loved Yellowstone, Yosemite, and the Badlands? You probably knew that I do, too. Did you know he took solace in wild spaces in times of emotional turmoil? You definitely knew that I do, too. I think he and I would've been very good friends. It's true that the emphasis on work of men like Roosevelt, Muir, Thoreau, and their contemporaries often obscures the influence and accomplishments of the indigenous people who lived there first, and that's not okay. But I do think it's okay to appreciate, celebrate, and honor the impact of Roosevelt's work - because he's sure as hell changed my life, and I bet he's made a dent on some of your lives, too. . The book I'm reading is "The Wilderness Warrior: Theodore Roosevelt and the Crusade for America" by Douglas Brinkley, and while I haven't chewed all the way through it yet, I still feel that I can say with some confidence that it's a high rec for history buffs and outdoor enthusiasts alike. . Yes, it's a picture of my butt. And yes, I still found a way to make it about the conservation conversation ✌🏼. . #NationalParkGeek #nationalseashore #protectpubliclands #theodoreroosevelt #beachbum #outdoorwomen
NEW ACTIVITY UNLOCKED! . This post is going to be a little bit about mountain biking, but a lot about the bigger picture experience here. . As a skier, I've been hearing for YEARS that I should get a mountain bike. Years. It seemed fun, but also like maybe it wasn't my kind of fun. I kept telling myself/everyone that my downhill speedometer is a little bit broken because of my experience on skis. "I'd definitely kill myself flying down some single track," I kept saying. "I don't think I could figure out how to stay in control," or "I'm too much of a hooligan to get on a bike in the woods, bad things would happen." I even tried, "eh, I don't know, I'm trying to mellow out and get into lower-impact sports." I sort of had myself fooled, but no one else was buying it. This weekend, I had bike shorts, gloves, a helmet, and a bike put into my hands, and someone I really trust said, "just try it." Just try it. JUST TRY IT. How often do I/we/you not do cool things, when all we really need is to just try it? How often do I/we/you carry story around something that holds us back when it could be really cool? I think about the other things that I do that make people say, "woah, that's awesome! I don't think I could ever do that." I've been getting that a lot recently when I tell people what I'm up to this summer. Now, I'm wondering - how often do I say it? "Woah, that's awesome! I don't think I could ever do that." Now, I'm remembering my favorite question: what if I could? What if you could? Mountain biking is awesome, but it's not just about the fact that I didn't kill myself flying down single track this day. Do you see? Maybe try that awesome thing, because probably, you actually can do it. Just a thought. . #helmetsarecool #mountainbiking #tryingstuff #outdoorwomen #nationalforest #adventureisoutthere #playoutside #protectpubliclands